Integrated Systems
Intelligent business operation is made possible by integrating an organisation's wide range of existing device technologies and systems. With Brassets Group's customised design & engineering, organisations benefit from a powerful increase in their operational capability, efficiency, profitability, safety, and security.
Systems and processes that can be integrated include:
Integration of Point of Sale
Access control
Process control
Building management
Vehicle tracking systems
CCTV
Ai & Intelligent Analytics
SCADA facial recognition
Visitor management.
Open Source intelligence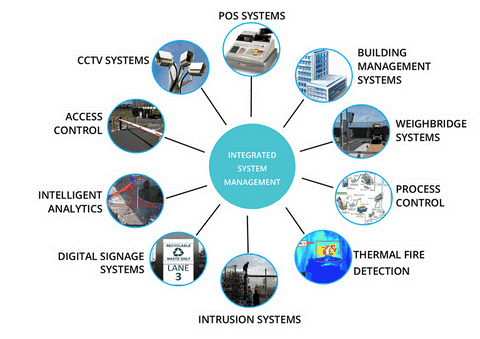 Developing a Technology Strategy
"Risk management is a more realistic term than safety. It implies that hazards are ever-present, that they must be identified, analysed, evaluated and controlled or rationally accepted." – Jerome F. Lederer, American aviation-safety pioneer, known as "Mr Aviation Safety".
Developing a Security Technology Strategy often enables an organisation to benefit from the following strategic outcomes:
The traditional model of buying proprietary systems results in total replacement due to obsolescence every few years. Strategically developed technology systems are future proof and follow a program that ensures assets purchased evolve as technology evolves.
Identifying manageable risks and vulnerabilities without large capital expenditure. Or, can be managed as secondary functional objectives.
Open architecture core systems enable the integration to emerging technologies and subsystems.
Automated intelligent technologies manage areas with freeing up time and resources to improve efficiency and reduce operational costs.
Project Overview Management
Ensuring your Security Technology upgrade aligns with your operational objectives, procedures, and budgetary limitations is an important component of any systems upgrade. How the system will be configured, how staff will use and interact with the technology, and what functions can be automated have an enormous impact on the outcomes, as much as the technology selection itself.
Our services include:
System design and engineering
Procurement
Project management
Final commissioning
Staff Training
Ongoing Maintenance management
Brassets Group has provided comprehensive professional security services to projects across the globe. Contact Brassets Group today to ensure the most efficient and cost-effective security & safety technology for your organisation.
Our scale and experience improve productivity and culture outcomes
Our Security management team have compiled further information regarding some of the hardware utilised by Brassets Group for download here.
Download Hardware Outline
Security Hardware Information Download Form