Ingested drugs accumulate permanently in hair in proportion to use, providing a permanent historical record, that is impossible to adulterate. The ethyl glucuronide (EtG) – a trace metabolite of ethanol and a direct alcohol biomarker –alcohol hair test measures average alcohol consumption over a period of approximately three months.
Testing distinguishes the level of alcohol use during a defined period and can indicate a pattern of excessive use. Testing follows guidelines determined by the World Health Organization in association with the Society of Hair Testing for measuring consumption.
The EtG method for the detection of Alcohol consumption is the most effective and accurate method for the detection of alcohol consumption.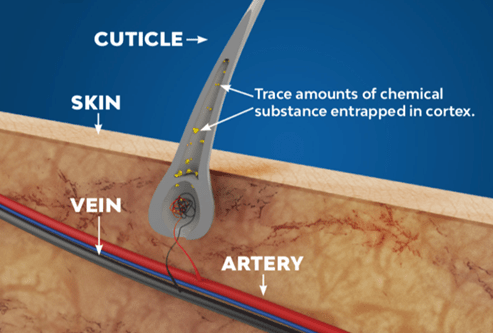 A small sample of hair is taken from an undetectable location at the back of the donor's head or from a location on their body and then sent to the laboratory for analysis.
Psychemedics uses a triple quad mass spectrometry test to determine the level of ethyl glucuronide (EtG) present in hair.
EtG is measured in pg/mg following the guidelines determined by the World Health Organization in association with the Society of Hair Testing:

Find out more about our Hair Drug & Alcohol Testing services